Quick Details
Place of Origin: Zhejiang, China (Mainland)
Brand Name: Permanent Bridge
Model Number: F7A2-EM12K EL12
Material: H08A
Diameter: 2.0-5.0mm
Weight: 25kgs/roll
product name: Submerged Arc Welding Wire EM12K
Brand: Permanent Bridge
Size: 2.0-5.0mm
Modem: F7A2-EM12K
GB: F5A2-H08A
Tensile Strength Mpa: 560
Yield Strength Mpa: 480
Elongation: 29%
Impact Value J: 105(-20)℃
Usage: low carbon alloy steel
Packaging & Delivery
| | |
| --- | --- |
| Packaging Details: | 25kg/roll , 1 roll/cartons , then on pallet |
| Delivery Detail: | 15 days |
Specifications
Submerged Arc Welding Wire EM12K
Size:2.0-5.0mm
Brand:Permanent Bridge
Standard:AWS F7A2-EM12K
Paciking:25kgs/roll
Submerged Arc Welding Wire EM12K
Size: 2.0-5.0mm
Modem: AWS F7A2-EM12K
With high quality and lower price
Application:welding of general carbon steel structures

1.Classification:
AWS A5.17 EM12K ; GB H08MnA ; JIS YGW12 ; DIN S1 ; EN 756 S1
2.Application:
Welding of general carbon steel structure with suitable fluxes,to attain target metal composition.
Such as boilers , containers , bridges , ships , pressure / chmical containers ,nuclear stations etc.
3.Excellent Welding Perfomance:
can get good mechanical seam with corresponding flux ; high fusion / depositing efficiency , stable welding quality , works / manipulates smoothly etc.
4.Welding Process:Sumbermarged-Arc -- SAW Welding Process ,recommended flux SFA/AWS 5.17 ,
please refer to specification Guide of Lincoln / Esab Manual Instructions .
5.Packing: 25kg per roll , one roll per cartons , then on pallet.
6.Mechanical Property:
Joint Strength

(MPA)δ

succumb strength

(MPA) δ0.2

elongation index

δ5%

shock value

Akv

-20 (J)

560

480

29

105
7.Chemical Composition:
| | | | | | | |
| --- | --- | --- | --- | --- | --- | --- |
| C | Mn | Si | S | P | | Other |
| 0.07% | 0.95% | 0.03% | 0.01% | 0.012% | | ≤0.50 |
Our products mainly have:
1. Gas-Shielded Welding Wire: AWS ER70S-6 /ER70S-2 / ER80S-G etc
2. Submerged Arc Welding Wire Series: AWS EL12 / EM12K / EH14 etc
3. Flux-Cored Welding Wire Series: AWS E71T-1 / ER308LT1-1 etc
4. Mild Steel Steel Electrode Series: AWS E6013 / E6011 / E7018 / E7024/E7016
5. Stainless Steel Electrode Series: AWS E308L-16/E316L/E308/E316/E309
6. Cast Iron Welding Electrode Series: AWS EZNi-C1 / ENiFe-C1 etc
7. Brazing Material / Nonferrous Metals:Copper / Aluminium Alloys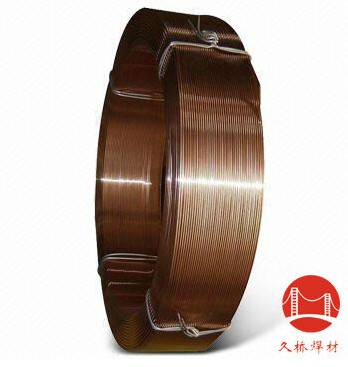 Product Categories : Welding Wire